Other Pages & Links
Block Island Times articles
May 17, 2003-front page
May 17, 2003-full article
March 24, 2001
September 29, 2001
Homecoming Articles
AP Story-filed 5/17/03
New London Day

Links to friends
Link to SV Karma
(a companion vessel during much of Brec's Journey)
Contact Information
for Brec
brecmorgan@aol.com
for John Morgan
(Brother/Publisher/
Editor/Webmaster) brotherjohn@otternews.com

Phone for John Morgan
860-857-4936
Regular Mail:
c/o John R. Morgan
P. O. Box 1982
New London, Conn.
06320

E-mail Note:
Please use the following AOL account in the event the e-mails are returned from the above addresses --

OtterNews@aol.com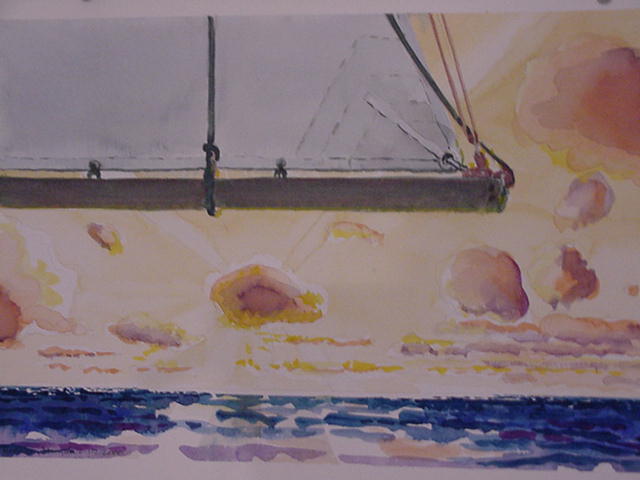 "Sunset under the boom" -- in the South Pacific
Watercolor by Brechin L. Morgan
Brec is still actively documenting his trip in art, and continues to include commissioned projects in his work flow. Those in this site are obviously not representative of actual color resolution, or they would take too long to load. But they will give you a good idea -- get in touch if you would like to commission one for your own!

Please note: Rates for commissioned work are determined by your specifications; commission prices are likely to increase now that he has earned the title of "America's Newest Solo Circumnavigator." In fact, now that he has earned that title, it may be cheaper to buy a Warhol!

But to inquire about commissioning a work, e-mail your name, address, phone number, e-mail address, and preferences (geographic area and scene: harbor, boats, landscape, etc.) to Brec and he will reply when he is ashore and answering e-mail.

Images fresh in mind from his recent itinerary include many from:

2002: the Suez, Cairo, Turkey; the Greek Islands, Malta, Gibraltar, the Canary Islands, and Barbados

2003: Trinidad and Tobago, Grenada, Nevis, St. Maarten, St. Croix, Tortola, Bermuda, and Block Island

Payment-upon-agreement for an approved commission is preferred, but since it may take some time for Brec to put brush to paper, he will allow payment upon receipt and acceptance of the work.

All artwork is provided with a satisfaction guarantee: if for any reason you want to return it, you owe nothing and will be refunded any prepaid amount.

Since Brec expects to prepare collections of voyage-related artwork upon his return, or post images on a web-site even before that, he is retaining all copyright & reproduction rights to his voyage-period works.

Art collectors will appreciate the value-added benefits of Brec's vision: A wider awareness of this unique collection along with direct visibility of individual works can only lend immeasurable cachet to the home or office display of a Brechin Morgan "Otter 'Round-the-World" original!

Please contact either Brec or Brother John for further details.